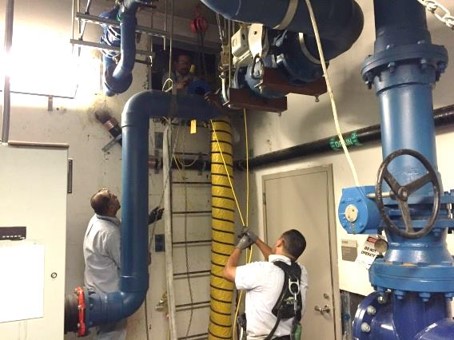 Facilities Management provides necessary maintenance and repair of buildings and facilities at no cost. Additional maintenance services, repair of department purchased equipment, and facility improvements are available through recharge or service agreements.
There are two primary categories of repair and maintenance:
routine maintenance
preventative maintenance
Routine Maintenance 
Routine maintenance includes repairs and restoration of spaces including walls, floors, ceilings, and doors, in addition to service requests that are generated by campus clients or identified by in-house staff.

Routine maintenance is funded by Facilities Management in state funded space.
Clients in non-state funded space may arrange for any of these services for a single event or as an on going service by submitting a FSR.
Examples of routine maintenance: 
Broken or stuck key
Cleaning and maintaining of spaces
Comfort calls (A/C, heat)
Elevator maintenance
Leaky faucets
Lights out
Pool and fountain maintenance
Repair of existing outlets
Restocking restroom supplies
Pest management
Preventative Maintenance
Many buildings systems are checked and tested under the Preventative Maintenance program. The systems are tested or checked on a monthly, quarterly, biannual or yearly cycle. General maintenance and repairs are completed as needed to prevent failures and extend the life of the systems. 
Facilities Management is funded to maintain equipment that is part of the building system, was originally purchased with state funds, and is located in state-supported campus space.
Preventive maintenance in non-state funded space and for any department purchased equipment (e.g. air conditioning added to accommodate increased load in a server room) requires a FSR from the client. 
Typical systems that require preventative maintenance are:
Backflows
Drain maintenance
Elevators
Emergency generators
Exit signs
Eye wash/deluge showers
Fire alarms
Fire extinguishers
Fire suppression
Roof drains and gutters